Quality
Certificated to DIN EN ISO 9001:2008
We meet the steadily advancing quality requirements of our customers with a high sense of responsibility.
In order to meet these requirements all working areas of MKL are subject to regular internal and external audits.
Careful dealing with resources and strict observance of the regulations regarding industrial safety and environmental protection are precondition for this.
---
Safety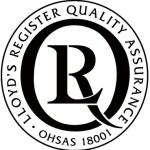 Certified to OHSAS 18001:2007
Our employees are the engine for the future of the Mitteldeutschen Kunststoff – Logistik GmbH & Co.KG.
This is why we successfully implemented the OHSAS 18001:2007 system for maintenance of industrial health and safety standards and thus exceed legal requirements.
The qualitative and quantitative assessment combined with the process of optimizing counts among the primary goals and fields of action of our industrial health and safety policy. This ensures a high level of working safety and promotes the health of our employees.